Meet Richard
I remember first meeting Richard Piña, master portraitist, while dining at one of L.A.'s exclusive private clubs. In the patio area, Richard was drawing an attractive woman seated before him. Her face was lit dramatically to enhance her features. "You have to have the right lighting, whether it be the face or full body." Richard explained to me, "the drama is the lighting." Modeling the face was and still is the main feature with Richard's work.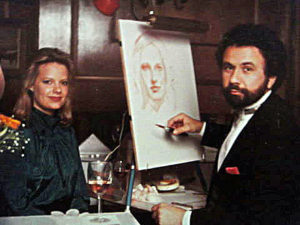 The drawing took only a short time and the onlookers were in awe of the his skill and precision in defining the characteristics of the face, achieving a likeness more beautifully. Now there were more than a dozen people watching this skillful portraitist, seated and directing his left hand the position of his subjects head, while with his right capturing in pastel a likeness that stunned his audience.
Richard was commissioned to draw such celebrities as Tom Jones, Priscilla Presley, Karen Valentine, O.J. Simpson, the Max Factor family, Mattel (toys) family and many others. Among his commissions in the TV entertainment industry were the likes of Genie Francis and the cast of General Hospital, LA anchorman Jerry Dunphy, Dukes of Hazard's John Schneider, and more recently the Backstreet Boys.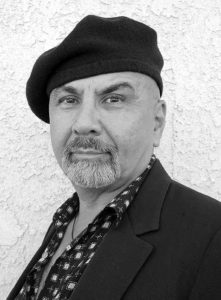 In 1998, Richard's artistic creativity galvanized the attention of cosmetic titans such as Calvin Klein, Givenchy, Chanel, Lancome, Christian Dior and Sisley, commissioning him to participate in their promotional festivities, further enriching Richard's reputation as an artistic talent to be recognized.
I've since come to know Richard Piña as an artist of great depth. He tells of those childhood days in preschool where he spent hours each day painting. During his academic years, grades 1-12 his artistry showed innate talent for future greatness. He always carried a sketch book and was always drawing. At age 19, still a student, he entered an art contest as a student, but to his surprise, the judges recatagorized him to professional, and he was awarded "Best in Show."
In college, while studying interior design and space planning, he still drew and painted portraits of his family, friends, girlfriend, her parents and siblings. Portraits are his passion.
Next Steps...
His portraits are dynamic, elegant and passionate. He portrays women in a sensual manner, males with a stronger, chiseled appeal and children are portrayed with innocence and sweetness.
Given the amount of time, days or weeks spent per commission, Richard Piña works exclusively from photographs.